More elegant style, more ways to cook
-
Enjoy a kitchen with more style and efficiency. Add a modern, integrated look with slide-out cabinets. The five-burner induction cooktop and large 6.0 cu. ft. oven with Fan Convection also help you save time by preparing multiple dishes or much larger dishes.
Instant upgrade with a modern, integrated look
slider design
Give your kitchen a sophisticated and elegant look. The slide-in design provides a modern, integrated look and is very easy to install. Simply place it between your cabinets to enhance the style of your kitchen without having to remodel. In addition, its front controls make cooking safer and more comfortable.
* Does not include iron, Image for illustrative purposes only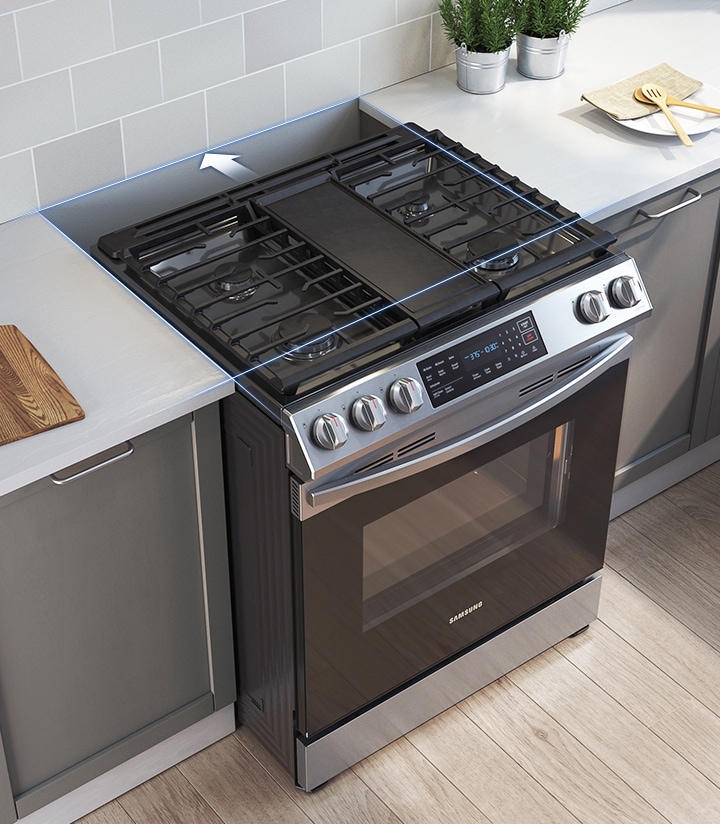 Greater ease of use and space efficiency
edge to edge grids
Enjoy increased ease of use and style with edge-to-edge louvers that minimize unused space. The larger cooking area accommodates much larger meals, and you can use a greater variety of cookware. Being made of cast iron with a matte finish, it also has a modern look but is still very sturdy.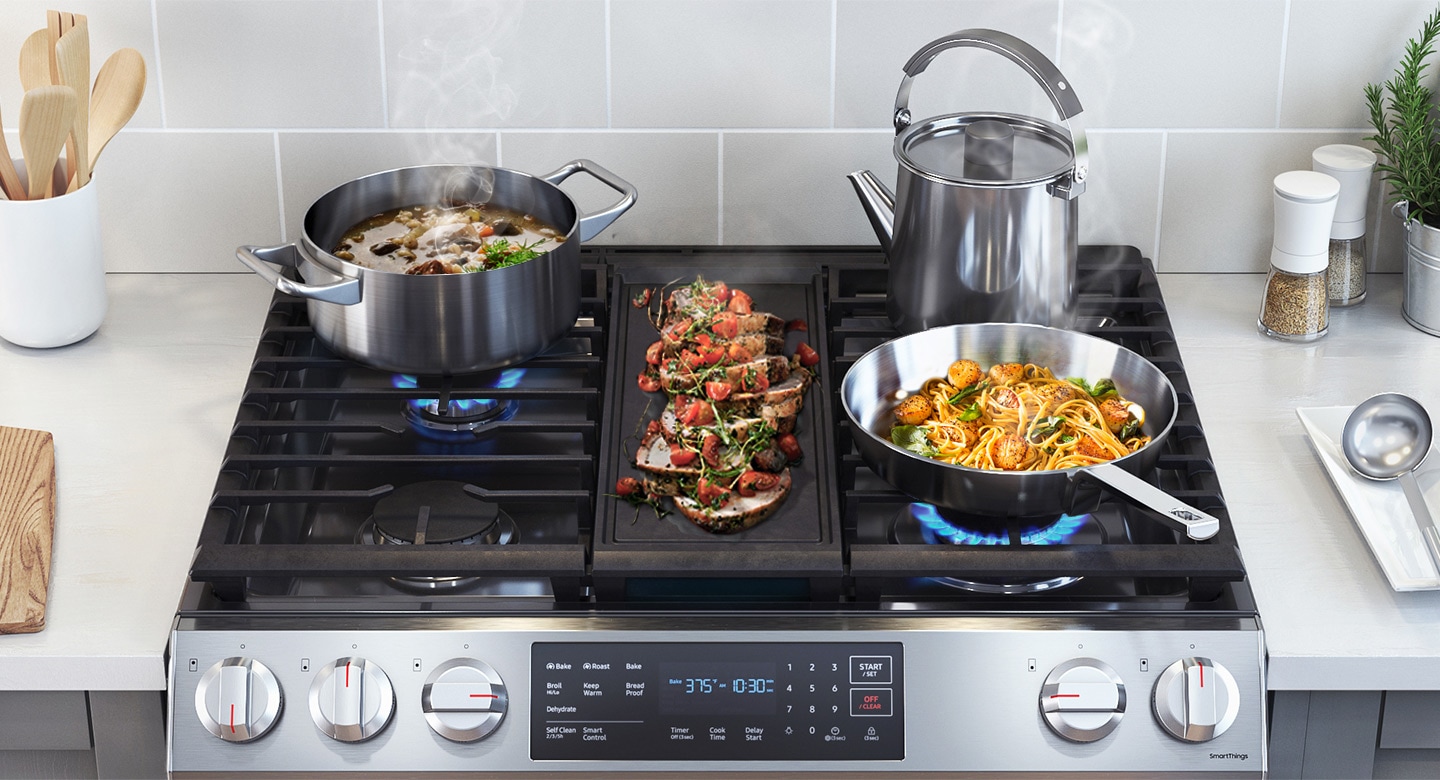 * Does not include iron, Image for illustrative purposes only
Smarter control from anywhere
Wi-Fi connection
Save time and do much more thanks to the Wi-Fi connection. Simply control your oven anytime, anywhere with the SmartThings app*. You can preheat or turn it off, and check and adjust the temperature and cooking time. In addition, the oven recommends the optimal cooking mode for each dish and displays recipes.
* Available on Android and iOS devices. Wi-Fi connection and Samsung account required.
Cook with more joy and without problems
SmartThings Kitchen Service
Make your dining experience more entertaining. SmartThings kitchen service saves time and minimizes the burden of cooking. By understanding your needs, it recommends personalized recipes. It also generates a weekly meal plan, makes grocery shopping seamless, and offers an interactive experience.
Just say what you want and the oven will do it
voice control
Control the oven with your voice. With a voice assistant*, like Samsung Bixby**, Amazon Alexa or Google Assistant, you can say what you want the oven to do and it will do it. You can easily turn it on or off, select features and change settings, even when you're busy doing other things.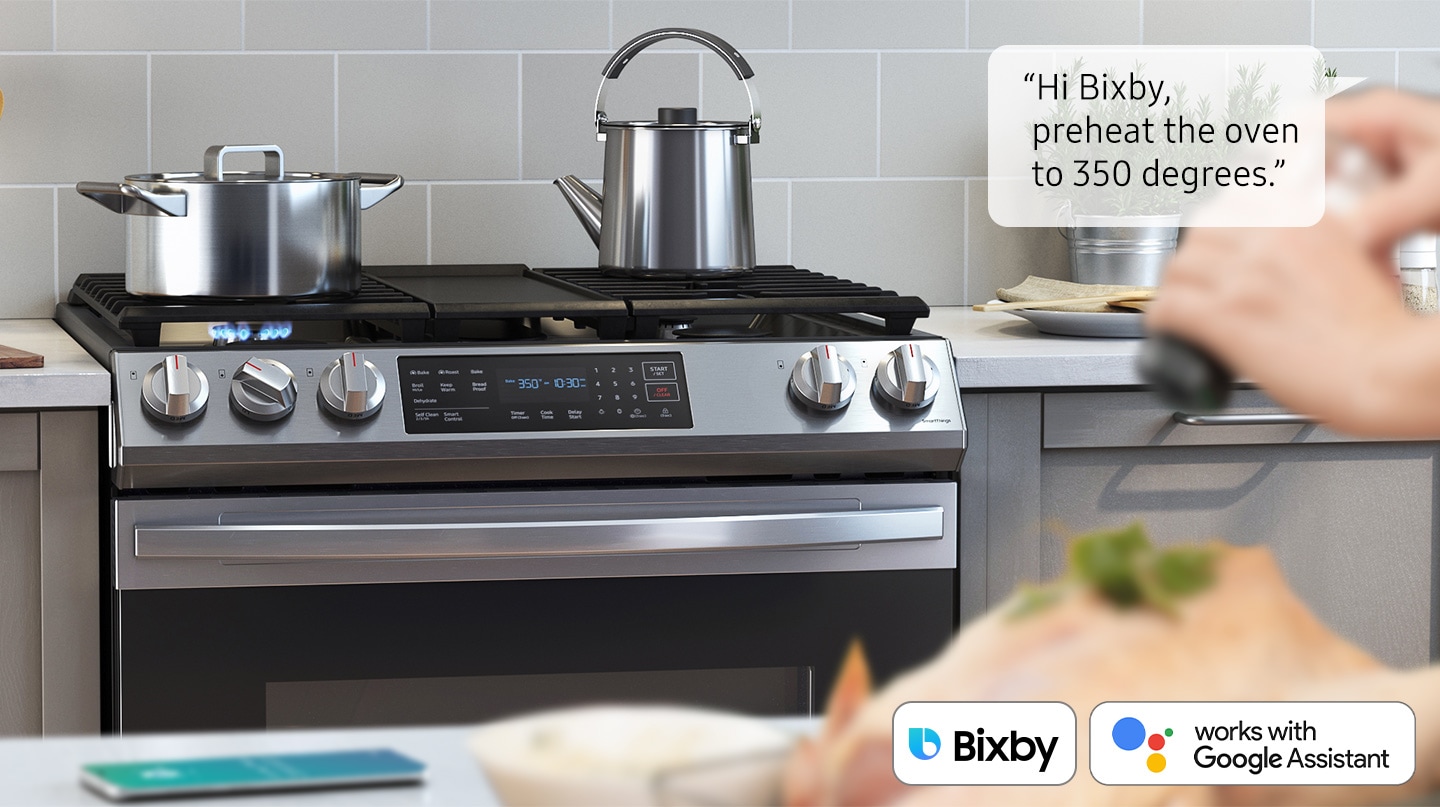 * Wi-Fi connection required
** Bixby is Samsung's branded AI/Internet of Things (IoT) voice assistant. A Samsung account is required.
*** Does not include iron, Image for illustrative purposes only
No fingerprint marks or smudges
Fingerprint resistant finish
Make sure your kitchen always looks spotless and clean. The special fingerprint-resistant finish prevents surfaces from getting nasty fingerprints, marks and smudges. But if one does appear, you can quickly clean it up so your home always looks bright and beautiful.
Easy and effortless self-cleaning oven
Self-cleaning
Keep the inside of your oven clean and tidy without wasting time and effort scrubbing or using expensive cleaning products. The self-cleaning system heats the cavity to a high temperature to burn off grease and food residue. Every corner is left completely spotless with just a few scraps to clean up.
Specifications
Net (width x height x depth)

(29.9 in) x (37 in) x (28.68 in)
Manuals
Recommended Products.
Product title
Vendor
$19.99 | $24.99
Product title
Vendor
$19.99 | $24.99
Product title
Vendor
$19.99 | $24.99
Product title
Vendor
$19.99 | $24.99